Temple Israel Sisterhood

"To foster fellowship and further Jewish ideals."
Temple Israel Sisterhood
Executive Board
President ― Millie Snyder
Vice-President ―  Marsha Albert
Secretary ― Ronni Cohen Spudich
Treasurer ― Betty Stern
Financial Secretary ― Judy Lundy
Past President ― Gayle Twigger-Shaw
Members at Large ― Jillian Epstein & Lynn Gattlieb
Sisterhood Representative to Temple Board ― Millie Snyder
Committees
Budget & Finance Committee ― Millie Snyder, Marsha Albert & Betty Stern
Fundraising ― the Board
Holland Bulb Sales ― Judy Lundy
Corresponding Secretary ― Jackie Artz
Membership ― Jackie Artz
Programs ― Marsha Albert
Helen F. Thalheimer Care Committee ― Betty Stern & Mary Rich Maloy
Yearbook ― Ronni Cohen Spudich
Shabbat Covered Dish Dinners ― TBA
Constitutional Revisions/Parliamentarian ― Ronni Cohen Spudich
Department of Religious Living
College Youth ― TBA
Floral Fund* Provides arrangements for pulpit flowers for Sabbath Services and High Holy Days. ― Betty Stern
Department of Religious Action & WRJ Projects – Community Service Committees
Kanawha Valley Interfaith ― Marion Baer, Sue Eisinger & Ronni Cohen Spudich
Manna Meal ― Betty Stern
Sojourner's Shelter ― Caroline Ostand
Critical Issues ― TBA
Temple Sisterhood Cookbook & Addendum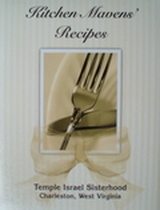 Kitchen Mavens' Recipes – $18
A treasured collection of recipes from generations of Temple members and friends. Cookbook Addendum – $10
The addendum of new recipes is printed on pages that are 3-hole punched and sized to easily insert into the original cookbook binder.
These items are available for purchase at the Temple.
The History of our Sisterhood
In 1874, one year after Virginia Street Temple was organized, our very dedicated women organized the ladies Hebrew Benevolent Society with a focus on charity at home and away. In 1984, our generous Ladies donated a Ten Commandments stained glass window to the Temple. It now illuminates our foyer at Temple Israel.