Welcome to Temple Israel…
Established in 1873 and a founding member of the Union for Reform Judaism (URJ), we are one of the oldest and most renowned congregations in the American Jewish experience.
Serving families from Charleston and surrounding areas of West Virginia
Offering an engaging array of education classes, enrichment programs, visiting scholars, concerts, and social opportunities
Active Temple Sisterhood affiliated with the WRJ
Energetic participation in community social action and interfaith relationship building
​A community that treasures its diversity in all its forms – age, marital or partnership status, gender identity, sexual orientation, race and ethnicity
Havdalah and…
I mentioned that I was planning to offer some Havdalah events. Havdalah is the very short ritual that marks the end of Shabbat, so these are on a Saturday evening. I have tentatively identified March 9 as the first one. Please watch for information on this to be in an upcoming bulletin, and hold the date!
Rabbi Blair
For Havdalah blessings and other info, click here.
Shabbat Services
Friday evenings
5:30 PM
Tu Bishvat
Join us on Sunday, Jan. 20 as we celebrate Tu Bishvat, the New Year for the Trees, with a formal Seder. This year we will be following a four-worlds model Seder with Kabbalistic, environmental, and religious aspects emphasized. It is similar to the Passover Seder, with an ordered ritual that incorporates a 'meal'. We will ask for RSVPs so we know how many to expect. Please respond no later that Jan. 10 to give us time to plan and purchase the necessary foodstuff. You can call (304) 342-5852 or email the office or the rabbi.
Welcome, Rabbi Joe Blair
We welcomed Rabbi Joe Blair as the rabbi of our Congregation on July 1. Please read Rabbi Blair's bio here.
To view the special mailing Rabbi Blair sent out in mid-August, please click here.
For information about
Weather Related Cancellations
call 304-342-5852
and listen to the
recorded message.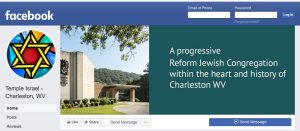 Temple now has an official Facebook presence
https://www.facebook.com/Temple-Israel-Charleston-WV-2550469431660054/