In-person Shabbat services have resumed. Online services will continue to be streamed on Zoom and Facebook.
Please refer to the twice-weekly LINKS emails from Rabbi Blair for scheduling info about meetings and classes. If you aren't receiving these emails, please contact Rabbi Blair. These emails are the only way to be sure about how a meeting or class will be offered.
Holiday Calendar
5783 / 2022–2023
All holidays begin at sundown on the evening prior to the date listed, unless otherwise noted.
Please see the "Events" calendar on the Home page for dates and times of holiday services.
Erev Rosh Hashanah – evening of Sept. 25
Rosh Hashanah – Sept. 26
Erev Yom Kippur (Kol Nidrei) – evening of Oct. 4
Yom Kippur – Oct. 5
Sukkot – Oct. 10-17 (observed evening of Oct. 7)
Simchat Torah – Oct. 17 (observed evening of Oct. 14)
Hanukkah – Dec. 19-26 (Light 1st candle evening of Dec. 18; light 8th candle Dec. 25th)
Tu B'Shevat – Feb. 6 (observed evening of Feb. 3)
Purim – March 7 (observed evening of March 3)
Passover – April 6-12, 2023(Passover Seder, evening of April 5)
Yom HaSho'ah – April 18 (service, evening of April 17)
Yom Hazikaron/Yom Ha'Atzma'ut – April 25-26 (Israel Memorial Day and Israel Independence Day, observed evening of April 28)
Pesach Sheni/2nd Passover – May 5 (observed May 5)
Shavuot – May 25-27 (observed evening of May 26)
Tisha B'Av—July 27
Torah Study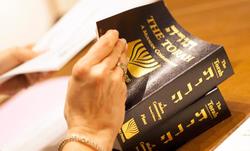 Regularly scheduled Torah study sessions will now be on select Sunday mornings – about once a month – at 10:30. Please see the "Upcoming Events" widget on the home page for the next study session. Regularly scheduled sessions in 2023-2024 will resume after the High Holy Days.
The Yom Kippur study session will be Monday, Sept. 25, 2023 at 3:30 PM. This session will be online only.
Please note: these study sessions are NOT in-person. They are available ONLY on Zoom.
Resources
---
Temple Library
The Temple Library is an excellent resource for information.
Books, magazines & periodicals
Self-checkout Procedure
Wi-Fi hotspot (Temple-wide) – please note: no password is necessary for the public Wi-Fi.
Judaica display & art
We also invite you to explore the Jordan Library and Children's Library located in the Education Wing.
The Kanawha County Public Library is another helpful resource. Locate, reserve and checkout books online and have them sent to any branch library for easy access. If you have your selections sent to the main library in downtown Charleston, you can call ahead and have them sent to the drive-thru pick-up window (please allow several hours for this service). The library also allows you to download audio and e-books. KCPL Website